---
Effective Steps to Promote Your Business Online For Free
Let's face the fact that gaining visibility online is pretty hard. To reach a large online audience, you have to either be ready to spend a decent amount of time on learning cost-effective strategies of online marketing and implementing them for promotion of your business, or to invest your money to achieve the desired result. Let's say, you are the one who loves broadening your horizons and learning new useful things that are out there, and let's explore the effective steps to promote your business online for free.
Are you ready for the journey? Let's start!
Start Your Blog
Having a lively, frequently-updated blog is a must for every modern website owner. And it does bring you a large audience of devoted followers in a long run.
To turn your blog into a successful free online marketing tool, you need to post articles with up-to-date, unique, structured and insightful content. Consider varying article length and going for large, in-depth articles that are true 'epic' content. For instance, well-written, detailed articles with 2.5K words are shared most in social networks, as they bring more value to people.
Also vary your post types. Go for listicles, articles based on lists, as eye-scanning online audience loves them. To propel the popularity of your blog effectively, create round-ups, the posts where you provide answers of different experts to the given question. If you later on ask them to promote the article, in creation of which they took part, they are likely to go for it and bring you a flush of new readers from their audience.
Most importantly, you should update your blog frequently. By this, you not only show your audience that you're serious on this, but also boost your SEO and get a chance to get to the first page of SERP for some specific keyword. The more you post, the more likely people will discover your blog in Google search. If your blog does bring a real value, they'll likely come back and/or subscribe to your newsletter.
Use the Power of Social Media Marketing
Once you have a lively blog, it's time to equip it with social media marketing tools. First, set up your corporal pages in different popular social networks. Mind your target audience, and think, what social networks do your users use most. Be it Instagram, Pinterest or LinkedIn, select a couple of networks that you'll specifically target your effort at.
Now, it's time to add social buttons to the header and footer areas of your website. Make sure that you use icons that are attractive and have an optimal size to attract attention and not to be too intrusive.
Moreover, set up social sharing buttons for your blog. Mind their placing and convenience of sharing. It should not take more then 2 – 3 clicks to get your content shared. Once you're done, don't forget to encourage sharing with the corresponding CTAs. Such encouragements boost shares up to 50%. You can learn more on how to make your content shared-worthy here.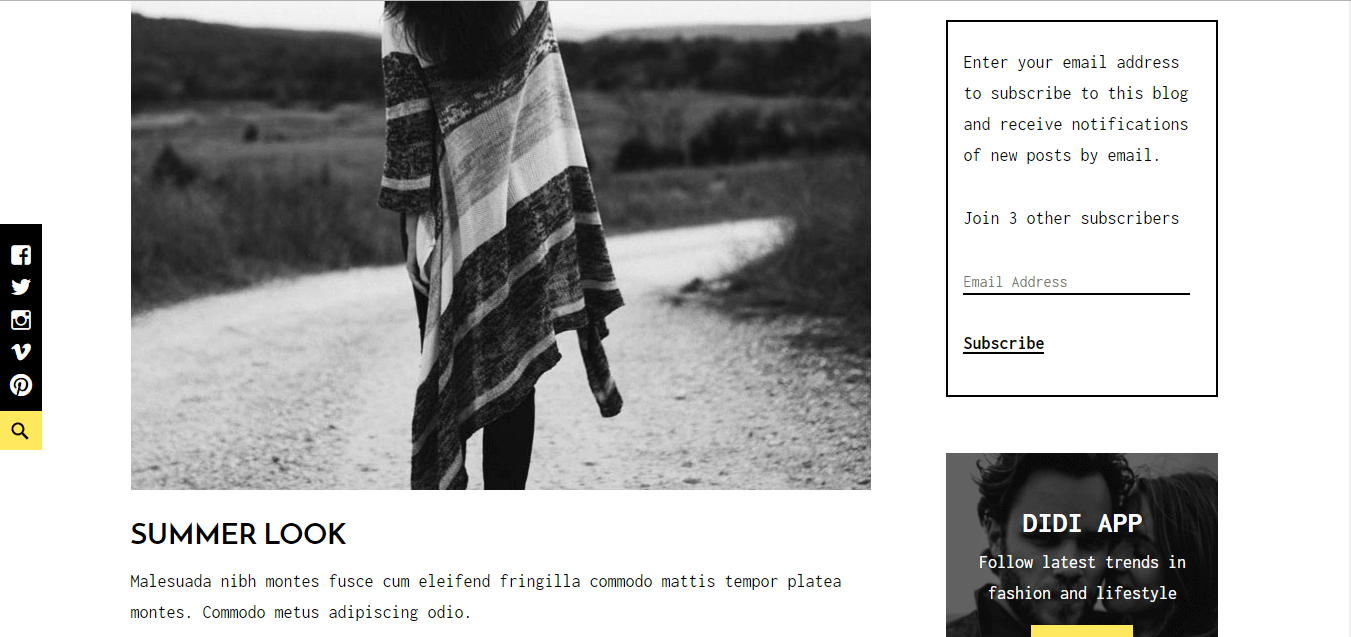 This top-notch fashion WordPress theme by TemplateMonster provides a perfect model of implementing social sharing on the pages of your blog. Once users scroll down the page, social sharing block keeps floating on the left, encouraging sharing the article at any point of reading. There is no need to scroll up or down to share!
Reach People Out with a Newsletter
If the content of your blog is really worth spending time, a part of your audience will feel like reading it on a regular basis. Why don't you offer them to sign up for a newsletter? The net offers multiple plugins and extensions for e-mail marketing, so just make use of one of them (you can find both paid and free plugins).
Then, equip your website with a newsletter subscription form (implement it either as a popup or a website sidebar/footer block) and encourage people to subscribe.
While your list of subscribers is growing, make sure that you send valuable content to their inboxes. Do not try to sell something directly, a link in your bio and mentions of your products that fit the context would suffice.
 Optimize Your Company Website for SEO
Optimizing your website for SEO is one more chance to bring more traffic to your website. If you have a well-designed, user-friendly website with an informative Blog section, some part of this traffic will turn into your loyal audience.
Make sure that your website is responsive and user-friendly, optimize text and visuals of your website for SEO, use one of the SEO plugins for the CMS that use run your website with, and search engines will likely raise your position in search engine search results. Learn more about SEO optimization here.
Start Your Own YouTube Channel
Starting your own YouTube channel may be beneficial in the long run. If you start your own channel, and share video-tutorials or 'How to' videos, connected with what you do, you get a chance to bring a real value to the audience. Do not try to sell things on your YouTube channel. Keep in mind that the purpose of it is to grow your audience of loyal fans.
View your YouTube channel as a way to let your expertise shine. Don't doubt that among your new followers, you'll find people ready to pay for your qualified advice and services.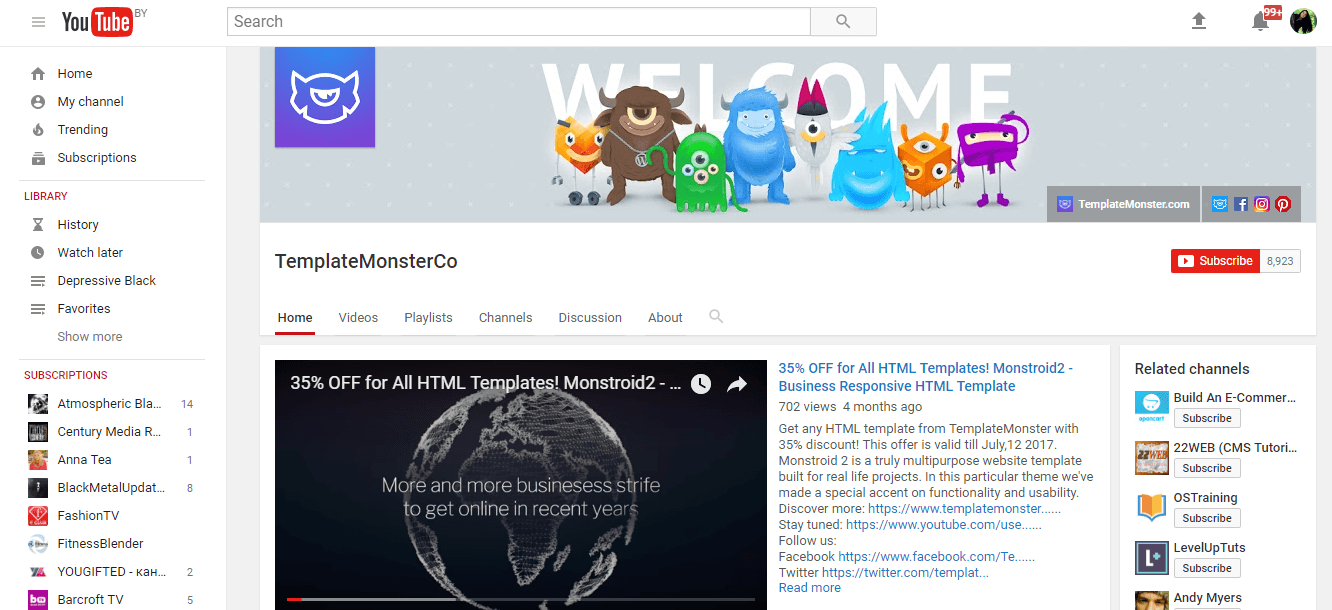 Use Big Local Listing Services
There is a simple way, in which you can connect with local audience. What you need to do, is to register at local services that list businesses in the area. If you register at Google Places, your store/office will show up on the Google Map, and it'll be discoverable in local Google Searches. There are similar services, offered by Yahoo and Bing.
Start Marketing Your Content
You can use content marketing strategies to expand your customer base. If you have a frequently updated blog and post insightful, in-depth articles there, you can let more people get to know about them and about you with popular authority websites that let everyone offer their entries. Consider submitting your article to such websites as Medium.com, Quora.com or to LinkedIn's new publishing platform that's currently actively growing. Posting to these resources, you can reach instantaneous visibility and let people around the globe know about you.
If you post to Quora.com, Medium.com or other authority platforms, submit your best articles to them. Your article should have a catchy, well-thought heading and no less awe-inspiring insides, for your effort to pay off. Remember that at such platforms, your content is the only thing that is judged. So, even if you're just starting out on the Internet, you can reach the desired attention with these platforms.
Conclusion
Now you know the secrets of promoting your business online for free. If you optimize your website for SEO, have a lively blog, resort to social and content marketing and make use of local services, you can avoid breaking the bank for gaining online visibility. I wish you good in implementing these steps in action!
Have I missed some important steps for getting online visibility for free? Let me know in the Comments section below.
Happy online marketing!
Recommended Posts
January 9, 2018
January 9, 2018
January 8, 2018